Prophecy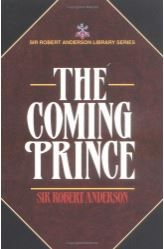 The Coming Prince £8.75 Sir Robert Anderson, Trumpet Press, 225 pp., paperback. (Cover not as shown).
A premillenial classic. Deservedly a standard work on biblical prophecy. A real source of help for understanding Daniel's Seventy Weeks. Jack Moorman's chronology, however, is more accurate.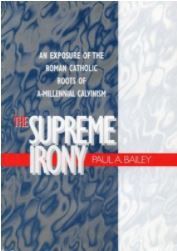 The Supreme Irony £2.00 Paul Bailey, 1996, 26 pp., paperback.
Some Amillenialists like to say that the premillenial prophetic view was a Jesuitical invention to deceive the Church. Mr. Bailey ably argues that the reverse is actually the case. It is Amillenialism which has Romanist roots. Pathetic, irrational and ad hominem attempts at rebuttal of this book have appeared on the Internet. I was told that Mr. Bailey has recanted of these views. Surely that must have been at gunpoint! I wrote to him to enquire but received no reply.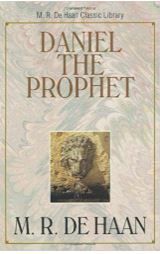 Daniel The Prophet £10.50 M.R. Dehaan MD, 1947, 339 pp., paperback
"...presents the major themes of Daniel's personal history and prophetic visions from a dispensational perspective, ... thirty five studies, practical in application and accessible to Christian readers of all levels."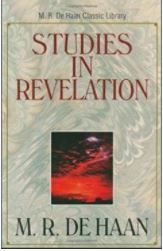 Studies in Revelation £9.75 M.R. Dehaan MD, 1946, 308 pp., paperback.
"Anyone interested in the study of the prophetic future and the end times will find Studies in Revelation to be a rich source of insight and inspiration."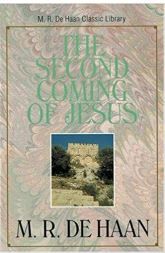 The Second Coming of Jesus £8.50 M.R. Dehaan MD, 1996, 178 pp., paperback.
"A frank and positive presentation of the premillenial coming of the Lord jesus Christ that rings with the certainty of one who has no doubt of what he is saying."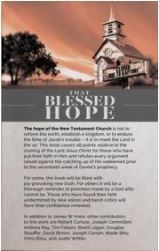 That Blessed Hope £11.00 James W. Knox and Others, 2016, 286 pp., paperback
"The hope of the New Testament Church is not to reform the earth, establish a kingdom or to endure the time of Jacob's trouble - it is to meet the Lord in the air. This book covers all points relative to the coming of the Lord Jesus Christ for those who have put their faith in Him and refutes every argument raised against the catching up of His redeemed prior to the seventieth week of Daniel's prophecy."