History and Biography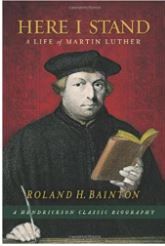 Here I Stand. A Life of Martin Luther. £10.75 Roland H. Bainton, Hendrickson, 441 pp., hardback.
"Unless I am convicted by Scripture and plain reason – I do not accept the authority of popes and councils, for they have contradicted each other - my conscience is captive to the word of God. I cannot and I will not recant anything, for to go against conscience is neither right nor safe. Here I stand, I cannot do otherwise. God help me. Amen."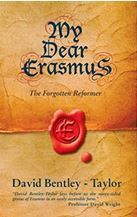 My Dear Erasmus. The Forgotten Reformer. £4.50 David Bentley-Taylor, Christian Focus, 219pp., paperback.
"He deserves to be better known – and to be more widely enjoyed. Contemporaries called this razor-sharp writer one of the wonders of the world. This attractive presentation of him is painted largely in his own words from his masterly letters. David Bentley-Taylor lays before us the many-sided genius of Erasmus in an easily accessible form.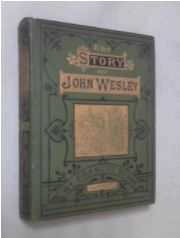 The Story of John Wesley. £5.00 Frances Bevan, Bible Truth Publishers, 350 pp., paperback. (Cover not as shown)..
"Some dragged Wesley along by the collar; some tried to throw him down on the slippery, downhill path, hoping to trample him to death. Others hit him on the head, yelling in their fury, 'Away with him! Kill him at once!' Follow not John Wesley's greatness in tough times but the goodness and greatness of the God of all grace…"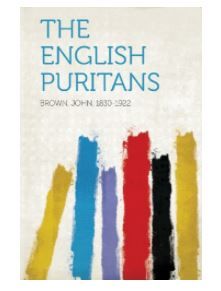 The English Puritans. £3.95 John Brown, Christian Heritage, 160pp., paper. (Cover not as shown).
"Brown, in short compass, outlines the rise and triumph and decline of the Puritan movement. He tells us about the movement's origins among those whom we may call the 'Puritans before Puritanism'. He reminds us of the impact of Elizabeth 1 on the consolidation of the spirit of Puritanism into a movement."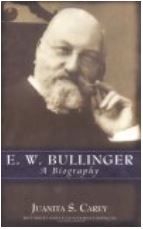 E.W. Bullinger – A Biography. £8.00 Juanita S. Carey, Kregel, 2000, 281 pp, paperback.
"This revised and expanded edition of the first Bullinger biography brings to life the fascinating story of the man behind the books, looking at his background, education, family and scholarly work. It includes a number of rare photos from Bullinger's life and a complete chronological list of his works."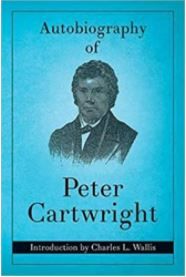 Autobiography of Peter Cartwright, the Backwoods Preacher. £9.00 Larry Harrison, 1997 reprint, 525 pp., paperback. (Cover not as shown).
"Though you probably won't agree with some of Peter Cartwright's dogmatism, prejudices and methodology, you can't help but admire him if not come to love him. As I read his autobiography I laughed and cried and learned." Leigh Crockett.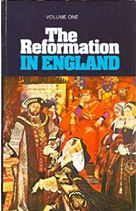 The Reformation in England (Vol. 1). £10.25 Merle d'Aubigne. J H, Banner of Truth, 1994, 476pp., paperback.
"The great Geneva professor's work reads like a novel. These volumes begin the story of the witness in Britain and cover the Reformation period as only a converted scholar can." Volume 1 covers the period from the Second century to 1529.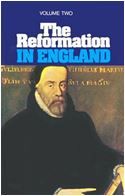 The Reformation in England (Vol. 2). £10.25 Merle d'Aubigne. J H, Banner of Truth, 1994, 507pp., paperback.
"The great Geneva professor's work reads like a novel. These volumes begin the story of the witness in Britain and cover the Reformation period as only a converted scholar can." Volume 2 covers 1529 to 1547.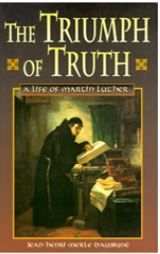 The Triumph of Truth. £7.15 Merle d'Aubigne. J H, Bob Jones University Press, 427pp., paperback.
"Luther's story was never better told than by Swiss historian Merle d'Aubigne. The liveliness of Merle's style makes this extremely enjoyable to read."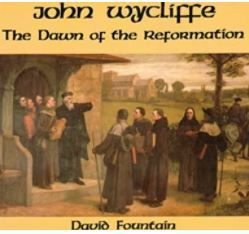 John Wycliffe. The Dawn of the Reformation. £3.50 David Fountain, Mayflower Christian Books, 1984, 132pp., paperback.
"The contribution that John Wycliffe made to the Reformation in England and to the special character of English Protestantism was immense, and the author brings this out in the most effective and helpful way." David N. Samuel.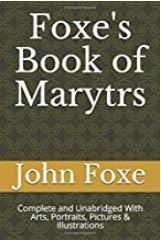 Foxe's Book of Martyrs. £6.00 John Foxe, BBH, 1994, 413pp., paperback.
Image not as shown.
Wycliffe, Hooper, Tyndale, Latimer et al. At times gory but always stirring. Here are the martyrdoms of the world's greatest men and women. Praise God for such lives as these. As Rome again grows strong, perhaps we should be preparing ourselves for renewed persecution.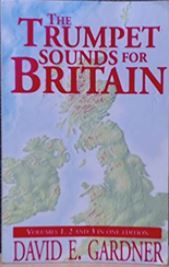 The Trumpet Sounds for Britain (Vols. 1,2 & 3 in one.) £10.00 David Gardner, Jesus is Alive, 222 pp., paperback.
"The first edition of The Trumpet Sounds for Britain was published as a trilogy in the 1980s. The central message, calling the people of Britain to remember their Christian heritage and turn to the Lord in repentance, is even more important today."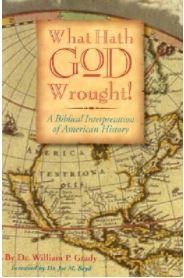 What Hath God Wrought. A Biblical Interpretation of American History. £25.00 William P. Grady, Grady Publications, 1996, 668 pp., hardback.
Dr. Grady is a very engaging writer. This is a stirring biblical perspective of American history. At a time when increasing numbers of foolish people are trying to tell us that history should really be her-story, a book such as this is a big help. I found it difficult to put down. CT..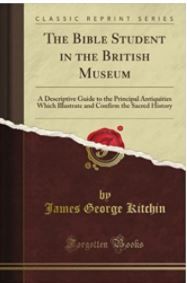 The Bible Student in the British Museum. £5.00 James George Kitchen, Forgotten Books, 2012, (Original 1890), 80 pp., paperback.
" A descriptive guide to the principal antiquities which illustrate and confirm the sacred history." There are more recent publications of this material which correct the names of one or two kings. The items have moved around greatly in the museum since 1890 but this book seems a litlle more replete with scripture references than its modern counterparts.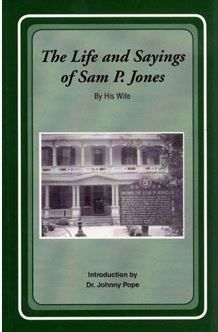 The Life and Sayings of Sam P. Jones. £9.00 His Wife, Pub. Larry Harrison, 1907, 465 pp., paperback.
"No one could preach against sin like Sam Jones…One of my favourites is a sermon he entitled, "Quit Your Meanness." He was threatened for his plain, clear, scathing denunciations of sin. After some days of this kind of preaching, a committee in his St. Louis campaign approached him and said, "We have brought you here to pitch into sinners and you have pitched into us." Johnny Pope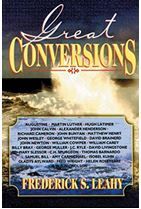 Great Conversions. £8.25 Frederick S. Leahy, Ambassador Publications, 1983, 142 pp., paperback.
"…these examples of conversion have been selected from a wide diversity of denominational backgrounds and most of the names listed are known to Christians throughout the world."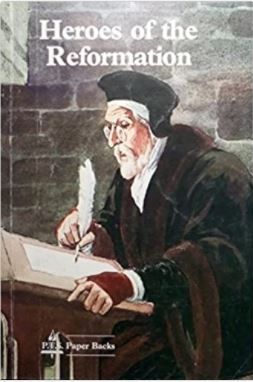 Heroes of the Reformation. £2.50 F. G. Llewellin, Protestant Truth Society, 116 pp., paperback.
Wickliffe, Luther, Calvin, Tyndale, Latimer, Cranmer.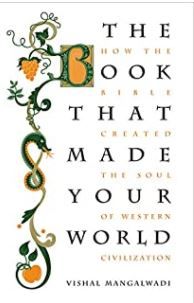 The Book that Made Your World. £13.25 Vishal Mangalwadi, Thomas Nelson, 2011, 442 pp., hardback.
Subtitled, How the Bible created the Soul of Western Civilization. "In polite society, the mere mention of the Bible often introduces a certain measure of anxiety. A serious discussion on the Bible can bring outright contempt. Therefore, it is most refreshing to encounter this engaging and informed assessment of the Bible's profound impact on the modern world. Where Bloom laments the closing of the American mind, Mangalwadi brings a refreshing optimism." Stanley Mattso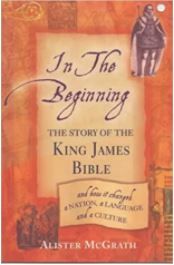 In the Beginning. The Story of the King James Bible. £9.00 Alister McGrath, Hodder, 2001, 340 pp., paper. (Cover not as shown).
A very informative historical background to the production of the KJV. This book is well worth reading for the historical information provided as well as the many testimonies to the excellence of the KJV. Mr. McGrath sadly seems to prefer the ESV and in a number of places takes the line of the modern critic of the KJV. That apart, a good and worthwhile read.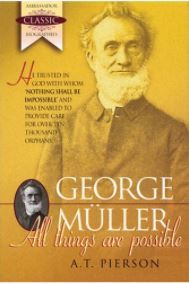 George Muller – All Things are Possible. £6.00 A.T. Pierson, Ambassador, 2003 Reprint, 306 pp., paperback.
This book has, like the life it sketches, but one aim. It is simply and solely meant to perpetuate George Muller's witness to a prayer-hearing God; to present a human history and an experience of the Lord's leadings and dealings which furnish a sufficient answer to the question: Where is the Lord God of Elijah?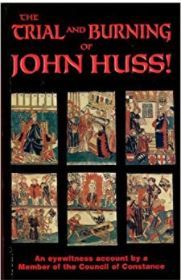 The Trial & Burning of John Huss. £5.00 Richard Rolt, Wittenburg Publications, 125 pp., paperback.
"This book is a moving eye-witness account written by one of the Roman Catholic officials who accompanied Huss during the ordeal, and was greatly influenced by his conduct and his testimony."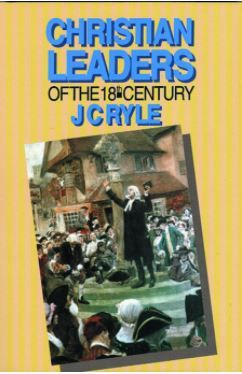 Christian Leaders of the 18th Century. £5.95 J.C.Ryle, Banner of Truth, 1997, 432pp., paperback.
"J.C.Ryle's account remains the best popular introduction to this great spiritual era. …he traces the lives of the eleven Christian leaders who 'shook England from one end to another', giving strong reasons for his belief that excepting Luther and his Continental contemporaries, and our own martyred Reformers, the world has seen no such men since the days of the apostles."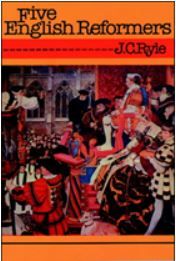 Five English Reformers. £5.00 J.C.Ryle, Banner of Truth, 1999, 156pp., paperback.
The reformers here remembered are John Hooper, Rowland Taylor, Hugh Latimer, John Bradford and Nicholas Ridley. Latimer and Ridley were burnt at the same stake in Broad Street, Oxford and the Memorial stands to testify against Popery to this day. "The blood of the martyrs is the seed of the Church." Tertullian.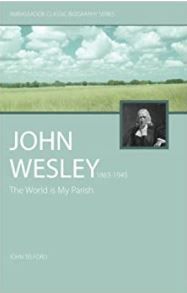 John Wesley (1703-1791) – The World is My Parish. £5.00 John Telford, Ambassador International, 363 pp., paperback.
"Few men have left as indelible an impression on their age and ages to come as John Wesley. From his childhood years at Epworth, to his years at Oxford, to his mission work in America, to his encounter with the pietisitic Moravians, and finally to his itinerate revival preaching through England, John Telford reconstructs the life…"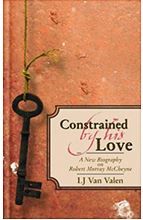 Constrained by his Love. A Biography of R.M. McCheyne. £10.00 L.J. Van Valen, Christian Focus, 2002, 488pp., hardback.
"Robert Murray McCheyne was born in 1813 and died, aged 29 in 1843. His life was nothing short of extraordinary. Given the charge of St. Peter's Church, Dundee at the tender age of 23, even his trial sermon was blessed with two people being saved. Soon the church was overflowing with 1,100 hearers, more than a quarter of the local population."