General Interest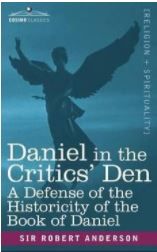 Daniel in the Critic's Den. £8.00 Sir Robert Anderson, Cosimo, 2007 (originally 1909), 186 pp., paperback.
A dismantling of an attempt by Dean Farrar (who followed in the footsteps of earlier rationalists such as Prof. S.R. Driver) to place a much later date on the writing of the book of Daniel in an attempt to get rid of the evident miraculously prophetic nature of the book. Robert Anderson was Chief of Police in London in the days of Jack the Ripper and brings very able critical thinking to the task.
The Buddha of Christendom. £9.50 Sir Robert Anderson, Cosimo, 2007 (originally 1899), 326 pp., paperback."
Sir Robert Anderson pits the Bible against organised Christianity (most specifically, the R.C. Church) in the Buddha of Christendom and takes the side of scripture…he asks in the beginning of the book, "is the supreme authority the Bible or the Church"? Also containing arguments against atheism and evolution, The Buddha of Christendom is as topical today as it was when first published…"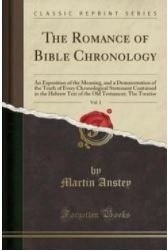 The Romance of Bible Chronology. £11.50 Martin Anstey, Forgotten Books, 1913 original, 300 pp., paperback.
A gem! This requires thinking caps for most of us but the effort will be well rewarded. Anstey gives dates from Adam all the way through the Old Testament. This is a very learned work and deeply satisfying for earnest Bible students. Jack Moorman wrote me in an email, "Anstey is light years ahead of Thiele." Jack Moorman's excellent book, "The Two Great Divides" would be well to consult alongside. OUT OF STOCK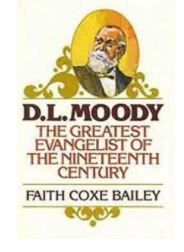 D.L. Moody, The Greatest Evangelist of the 19th Century. £4.00 Faith Coxe Bailey, Moody Press, 159 pp., paperback.
"D.L. Moody dared to take up a challenge and see what God could do with a life totally committed to Him…"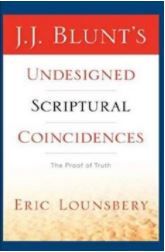 J. J. Blunt's Undesigned Scriptural Coincidences £12.00 Eric Lounsbery, Xulon Press, 2005, 264 pp. paperback.
An excellent 19th century work by J.J. Blunt. Blunt gives very many examples of extraordinary coincidences in biblical passages that are self-evidently not pre-meditated design. Such coincidences demonstrate the oversight and inspiration of the eternal God.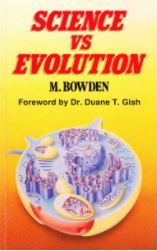 Science versus Evolution. £10.00 Malcolm Bowden, Sovereign Publications, 2002, 200 pp., paperback.
"…one is left wondering how any self-respecting scientist could possibly believe in evolution after reading this book." Dr. A. J. Monty White.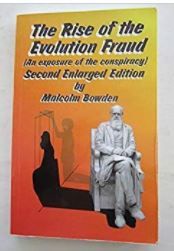 The Rise of the Evolution Fraud. (An exposure of the conspiracy) £11.00 Malcolm Bowden, Sovereign Publications, 2008, 205 pp, paperback.
Dr. Jack Moorman, in discussing the title below, once told me that he considered Malcolm Bowden to be the ablest Creationist in the UK. Mr. Bowden here argues that "evolution was imposed upon an unwitting public by the long term efforts of a small group of men working together behind the scenes."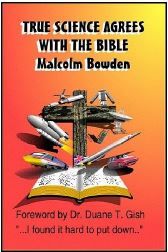 True Science Agrees with the Bible. £12.50 Malcolm Bowden, Sovereign Publications, 1998, 551 pp, paperback.
A pot-pourri of interesting and diverse material of interest to Christians. Includes a survey of Genesis, early British Christianity c 60 AD, geology, the gospel in the stars, numbers in the Bible and more.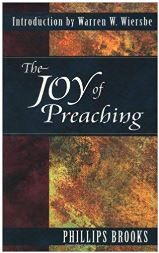 The Joy of Preaching. £7.95 Phillips Brooks, Kregel, 1989,237pp., paperback.
"Phillips Brooks deals with the essential principles of preaching – principles that never change. In fact, it is my conviction that everything useful written on homiletics in America in the last century is, one way or another, a footnote to Phillips Brooks." Warren Wiersbe. Lots of gems with one or two plainly unscriptural notions.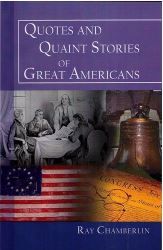 Quotes and Quaint Stories of Great Americans. £4.25 Ray Chamberlin, Larry Harrison (Pub.), 2005, 80 pp., paperback. (Cover not as shown).
"Americans must be reminded from whence we came. New generations must be taught. We suggest that readers help distribute this message everywhere. I regret that the work is not more comprehensive."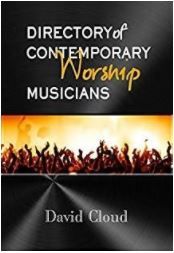 Directory of Contemporary Worship Musicians. £12.00 David Cloud, Way of Life, Michigan, 2011, 417 pp., paperback.
This directory contains information on influential contemporary worship musicians who are creating the music that is being used ever more frequently by fundamentalist and very conservative evangelical churches. All of them are radically ecumenical and the vast majority are charismatic in theology.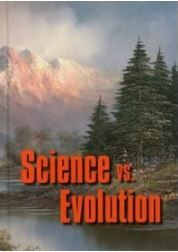 Science vs. Evolution. £22.50 Vance Ferrell, Evolution Facts, Inc. 2001, 1008 pp., hardback.
"Thousands of scientific facts, disproving every basic area of evolutionary theory. It blows it away. A fascinating book that is easy to read. Full of facts most people do not know. Written so key points quickly jump out at you. 1350 scientific quotations or references." A large book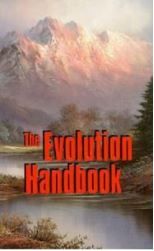 The Evolution Handbook. £6.50 Vance Ferrell, Evolution Facts, Inc. 2001, 1008 pp., paperback. (A Condensed copy of 'Science vs. Evolution' above.)
"Scientific facts, disproving every basic area of evolutionary theory. It blows it away. A fascinating book that is easy to read. Full of facts most people do not know. Written so key points quickly jump out at you. Scientific quotations and references."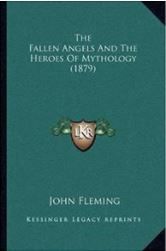 The Fallen Angels and the Heroes of Mythology (1879) £7.50 John Fleming, Kessinger Reprints, 216 pp., paperback.
A very thorough treatment of the fallen angels/ sons of Seth views of Genesis 6. Concludes, as the title would suggest, in favour of the fallen angels view. Gripping and well-researched.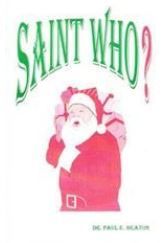 Saint Who? £1.25 Paul E. Heaton, Kings Publishing, 1992, 13 pp., paperback.
A brief history of the fat fake, Father Christmas.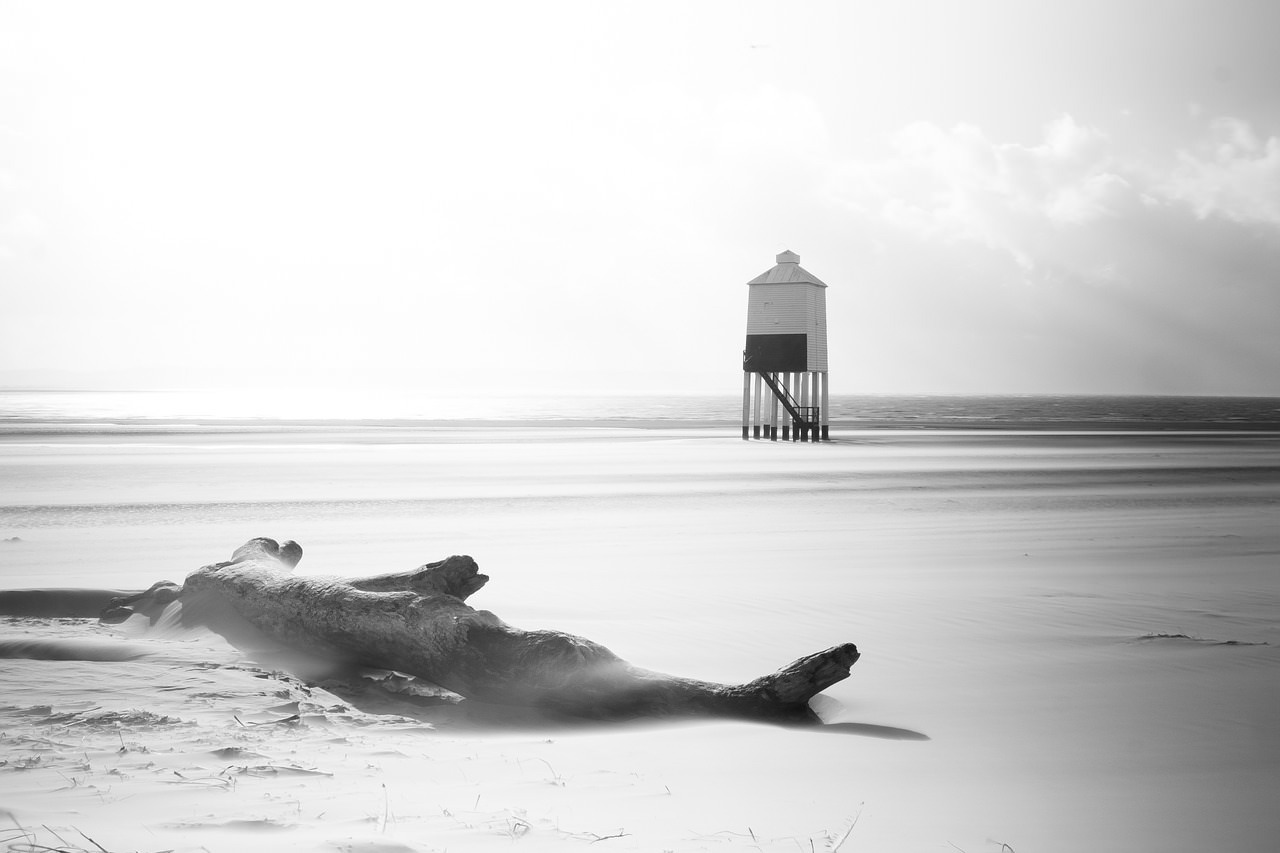 Are Babies Humans? £2.50 Paul E. Heaton, Kings Publishing, 1995, 42 pp., paperback.
No image available
"What the Supreme Court has decided and what a bunch of evolutionary medical scientists may think means as much to me as a flea scheduling a boxing match with a mosquito. Medical opinion contrary to truth (the Bible) is of little interest to me other than pointing out the error of their way."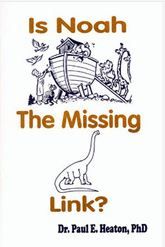 Is Noah the Missing Link? £2.25 Paul E. Heaton, Kings Publishing, 1998, 33 pp., paperback.
"The purpose of this small booklet is simply to put in print the facts as they are in the Bible and to compare them with what the scholars tell us are the facts. I have not, and will not, ever twist a verse or run to the Hebrew or Greek to get my facts. If they are not in the English then they are nowhere else."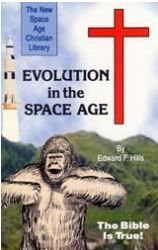 Evolution in the Space Age. £2.50 E. F. Hills, BB Bookstore, 1964, 45pp., paperback.
Chapter headings are, Man-Apes,Ape-Men and Cave Dwellers, Evolution and Geology, Materialism! Acids, Viruses and Automation, Evolutionism Still an Error.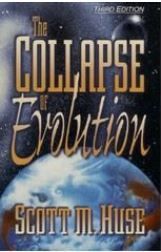 The Collapse of Evolution. £8.00 Scott Huse, Baker Books, 1983, 224 pp, paperback.
"The Collapse of Evolution has long been one of the most successful books on flaws in the evolutionary theory. It confronts evolutionists on a turf they have claimed as their own – the sciences – as it explains the weaknesses of Darwinian and other naturalistic evolution theories."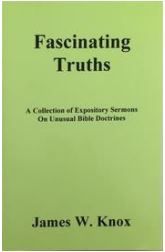 Fascinating Truths. £7.00 James W.Knox, 2004, 197pp., paperback.
What the Bible says about dreams, the giants in the earth, how the United States has won the wars but lost the peace; and seven other subjects, make this book both enjoyable and enlightening.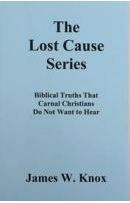 The Lost Cause Series £8.00, James W. Knox, 2005, 285 pp., paperback..
"Biblical truths that carnal Christians do not want to hear. What the Bible says about such matters as Racism, Music, Santa Claus, Home schooling, Proper clothing, Birth Control and more.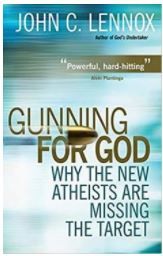 Gunning for God. Why the New Atheists are Missing the Target. £8.00 John C. Lennox, Lion Hudson, Oxford, 2011, 248 pp., paperback.
"This is a powerful, hard-hitting indictment of the 'New Atheists'. Quoting extensively from their works, Lennox fully documents their close-mindedness, their reluctance to consider evidence and their resort to ridicule, mockery and misrepresentation in the place of serious argument - qualities that can make their work confirm rather than undermine religious belief." Professor Alvin Plantinga.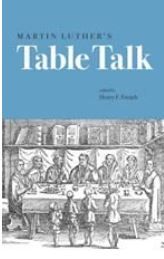 Martin Luther's Table Talk. £12.00 Martin Luther, Christian Focus, 2003, 482pp., hardback. (Cover not as shown).
"This collection of informal comments was gathered together by Anthony Lauterbach and John Aurifaber, who were very close to Luther towards the end of his life. It is a serendipitous collection and many of the Reformer's words are pithy and direct."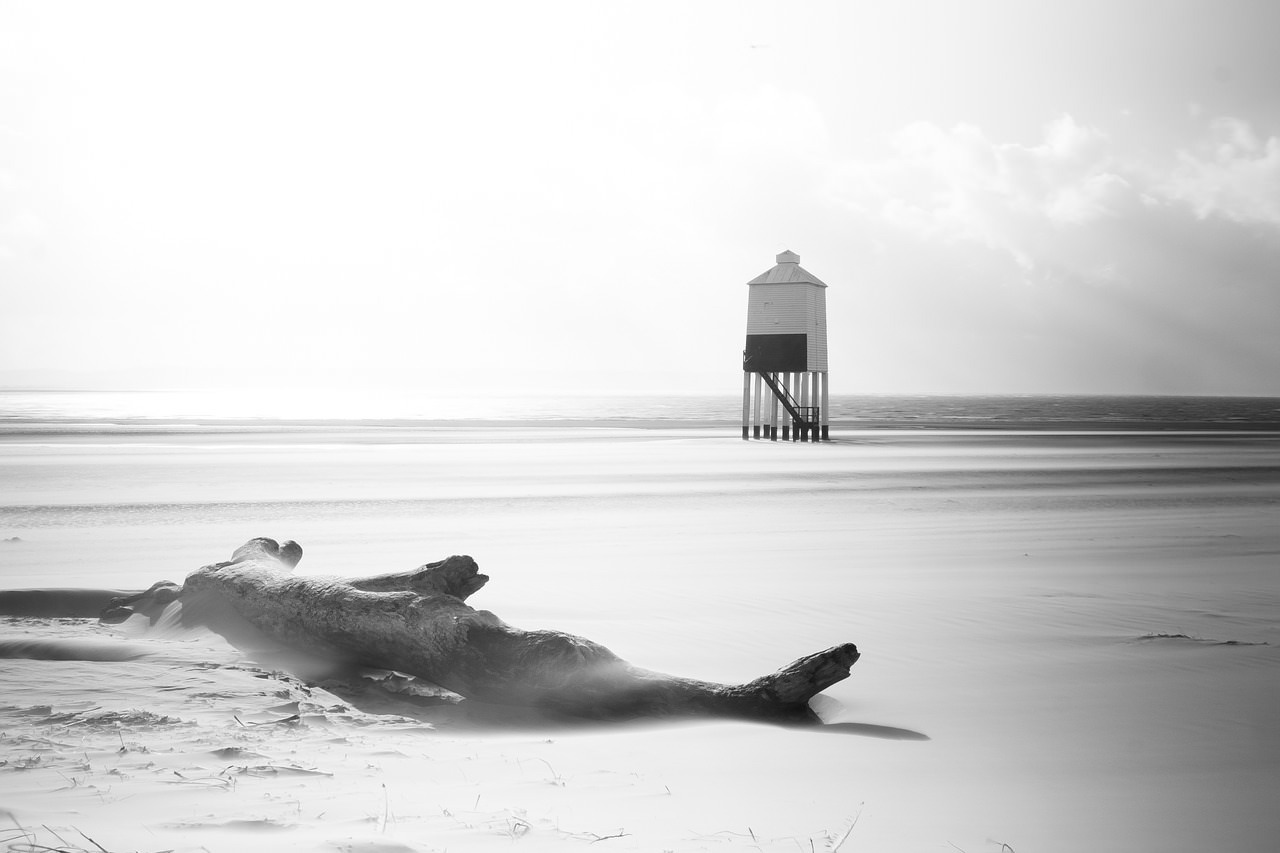 The Huxley Memorial Debate. Feb.14th 1986. £6.50 Oxford Union, CD, 3 hrs 49 mins. No image available.
The motion was, 'That the doctrine of creation is more valid than the theory of evolution.' Principal speakers for the motion were Prof. Edgar Andrews and Dr. A.E. Wilder-Smith. Principal speakers against the motion were Prof. J. Maynard-Smith and Dr. Richard Dawkins. Some of Dr. Dawkins 'arguments', which were no more than baseless lampoons, did not require anything more than a bloated ego. His doctoral qualifications, as far as these points were concerned, were irrelevant. They could have been made just as vindictively by the average chimney sweep.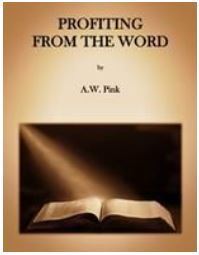 Profiting from the Word £5.00 A W Pink, Banner of Truth Trust, 1970, 124 pp., paperback. (Cover not as shown).
"How much profit do we gain from our reading of the Bible? 'All Scripture', we are told in 2 Timothy 3:16,17 'is profitable', but how much do we gain from our reading of Scripture, and by what means can we learn to profit more? These questions are so fundamental to Christian experience and happiness, provide the theme for this book by Arthur Pink."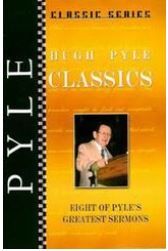 Hugh Pyle Classics £4.50 Hugh Pyle, Faith Baptist Church, 2002,126 pp., paperback.
Eight of Hugh Pyle's greatest sermons. (Who's getting the glory here? C.T.) Good messages nevertheless.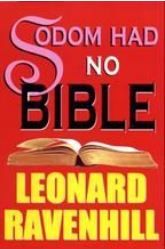 Sodom Had No Bible £9.50 Leonard Ravenhill, Christian Life Books, Pensacola, 1971, 224 pp., paperback
I was greatly stirred and encouraged by this book of Ravenhill's as a young believer. Uses a variety of Bible translations. CT.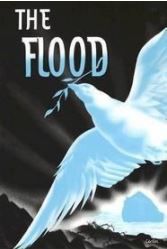 The Flood, £8.75 Alfred M. Rehwinkel, Concordia Publishing House, 1951, 374 pp., paperback. (Cover not as shown)
From archaeology, excavations and honest historical research,the author submits solutions to troublesome questions.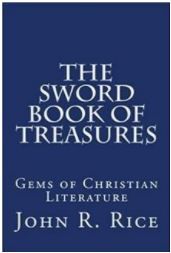 The Sword Book of Treasures, £10.75. John R. Rice (ed.), Solid Christian Books, 2014 (Original 1946), 359 pp., paperback..
"We believe that you will find here some of the choicest gems of Christian literature ever printed. They are a collection of articles, sermons and stories that we first printed in The Sword of the Lord, the evangelistic weekly which Dr. Rice edited for years. They are selected from the material printed in nearly six hundred issues of this Christian magazine and are by writers famous and little known, living and dead."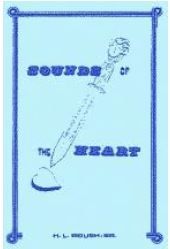 Sounds of the Heart. Free (+ post) H.L.Roush Sr., Jesus Loves Me Ministry,1990, 253pp., paperback.
Tracts for more mature believers compiled by Herbert out of his walk and ministry experience between 1962 and 1989. Brother Herbert was called home in 2001.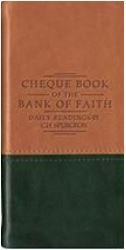 Cheque Book of the Bank of Faith. Daily Readings. £7.50 C.H. Spurgeon, Christian Heritage, Scotland, 2011, 372 pp., cloth
Daily readings. Attractively bound in two-tone imitation leather with gold edged pages and ribbon marker.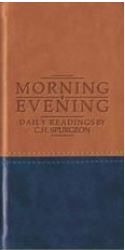 Morning and Evening. Daily Readings by C.H. Spurgeon. £10.50 Christian Focus, Scotland, 2012, 763 pp., Imitation leather.
Daily readings from C. H. Spurgeon. Beautifully bound in two-tone brown with gold edges and ribbon marker. Printed on india paper. One can surely not go far wrong with 'the Prince of Preachers.' An excellent gift.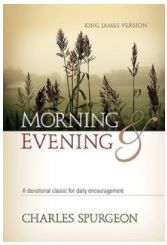 Morning and Evening. Daily Readings by C.H. Spurgeon. £10.00. Hendrickson, 762 pp., hardback.
Daily readings from C. H. Spurgeon. Great value at this price.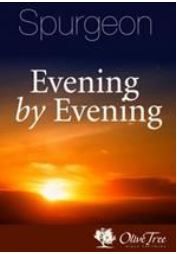 Evening by Evening. £8.00 C.H.Spurgeon, Whitaker House, 375 pp., paperback. Cover not as shown.
"Begin today to spend time with God and His Word each evening. You will find solace in His Word, your ear will be opened to hear his voice, and He will walk with you in renewed and joyous fellowship."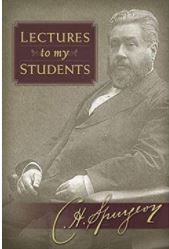 Lectures to My Students. £21.00 C.H.Spurgeon, 496pp., Hardback. (Cover not as shown).
Thirty lectures given at Spurgeon's College by the Prince of Preachers.There is an abundance of wisdom and counsel here for those having a call to preach. Packed with good advice and warnings about pitfalls. Stirring. SOLD OUT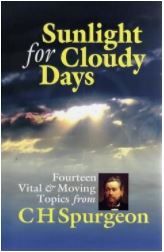 Sunlight for Cloudy Days. £4.50 C.H.Spurgeon, Wakeman Trust, 2010, 124pp., paperback.
"Fourteen heart-warming messages to encourage and challenge drawn mainly from prayer meeting addresses with some from Sunday sermons given at the Metropolitan Tabernacle.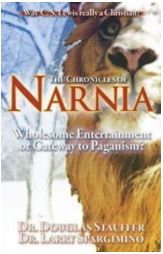 The Chronicles of Narnia. Wholesome Entertainment or Gateway to Paganism? £10.00 Douglas Stauffer & Larry Spargimino, Bible Belt Publishing, 237pp., paperback.
Clearly documents from Lewis's own works his many heresies. Lewis did not accept the inspiration of the scriptures, nor believe that Christ alone can save and was clearly ecumenical. The release in 2010 of The Voyage of the Dawntreader is not an indication that film-makers are becoming evangelical. Lots of Christians will no doubt attend.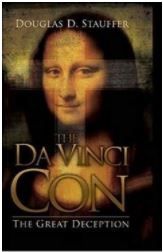 The Da Vinci Con. The Great Deception. £8.50 Douglas Stauffer, 21st Century press, 2006, 128 pp., paperback. (Signed)
"In this easy to read expose. Dr. Stauffer reveals the clear connection between The Da Vinci Code, Harry Potter, and the events of the last days. Dr. Stauffer shows why The Da Vinci Code should be commonly known as The Da Vinci Con."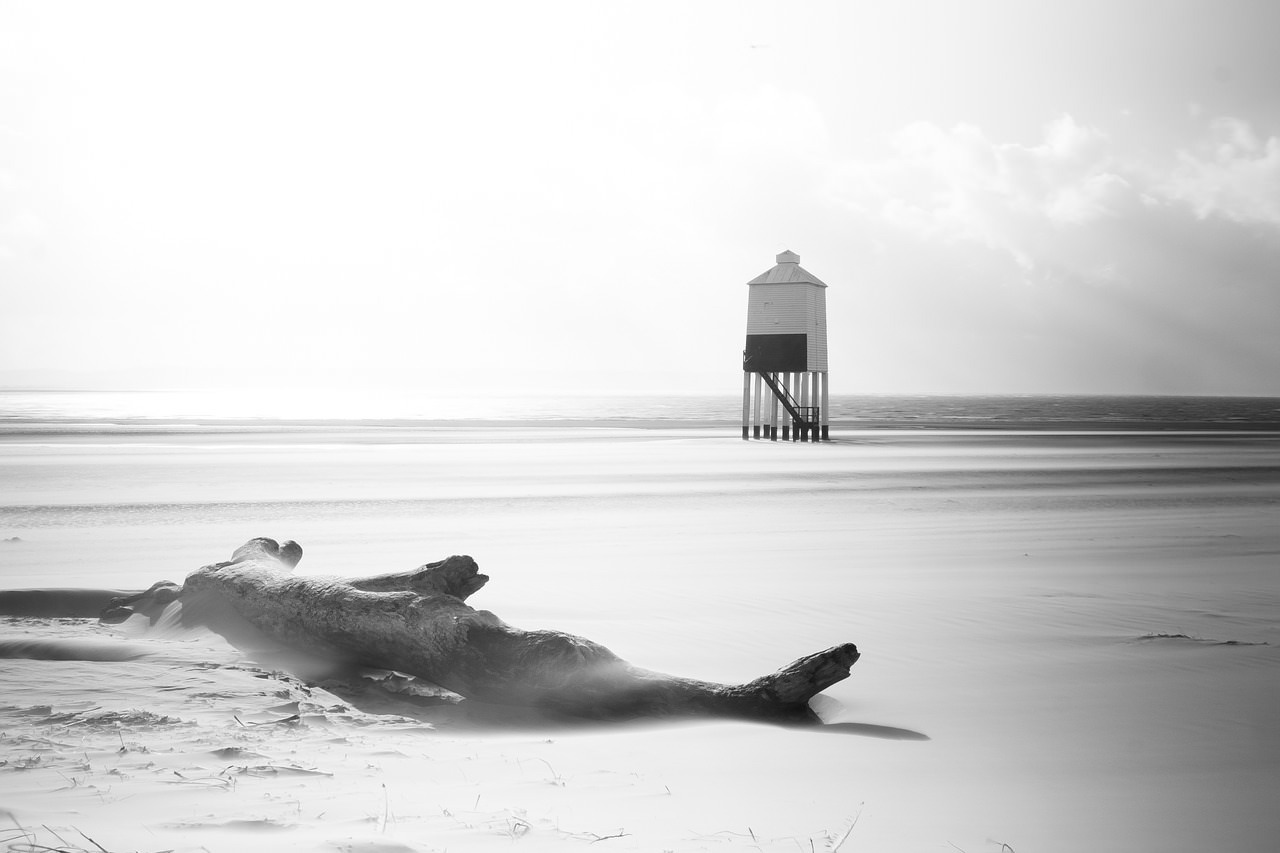 Sexual Equality and Modern Bibles. £1.75. C. Tyler, 2019, pp. 27, paperback.
No image available.
Illustrated in First Corinthians. A comparison of the KJV with the various editions of the NIV, NASB, ESV and NKJV exposing the disgraceful emasculating of the Holy Bible by the modern translations. Few opportunities are missed in the modern versions to change masculine genders into male and female. Women are now free to preach, hold leadership positions in church and home, join the military, and only the LORD knows what else. If you like a shock, this will probably do it.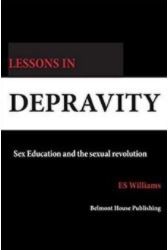 Lessons in Depravity. £8.00 E.S.Williams, Belmont House, 2003, 328 pp., paperback.
This book gives a historical background and documents the development of sex education in the UK, particularly during the 20th century. Dr. Williams leads us to the inescapable conclusion that "the real purpose of sex education has been to promote the sexual revolution." When Peter Hitchens said this very thing on the BBC's 'Question Time', he was heartily jeered and booed by what looked like the entire audience. O tempora, O mores!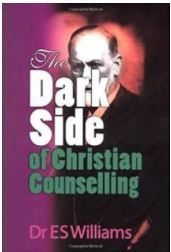 The Dark Side of Christian Counselling. £6.25 E.S.Williams, Belmont House, 2009, 155 pp., paperback.
"It is amazing how rapidly the Christian counselling movement has spread through churches in the UK, teaching that hurts and depressions once considered part of normal life are illnesses to be treated. It implies that for 1900 years the Bible has been insufficient for the woes of God's people, or for their sanctification, but that now we have the 'insights' of anti-Christian psychologists to make good the deficits."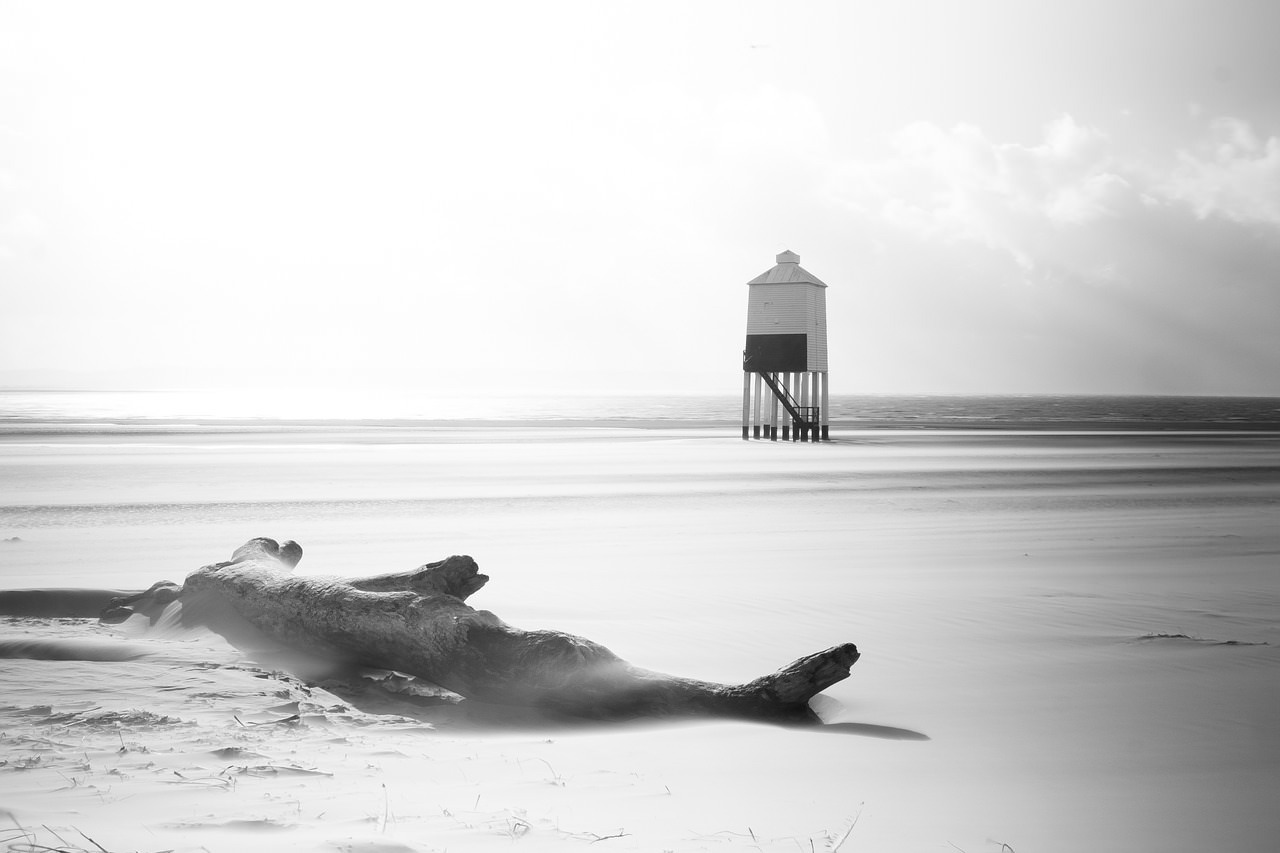 The Erosion of Christian Values in Church and Nation £2.50 E S Wiiliams, Christian Watch.(CD, approx 60 mins.)
No image available.
A talk given by Dr. Williams in 2009 with particular details of the aims and influences of secular humanism. The BBC, for example, is top-heavy wth Sodomites running the show. Informative.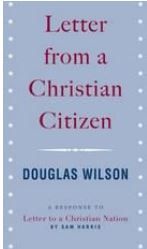 Letter from a Christian Citizen. £3.50 Douglas Wilson 111 pp., paperback
A Christian's response to a book by professing atheist Sam Harris called 'A Letter to a Christian Nation." Mr. Wilson challenges the evolutionary thinking of Harris in a very interesting way.
The Real Face of Atheism £9.75 Ravi Zacharias, Baker Books, 1990, 185 pp., paperback.
"Atheism is a world without God. Its true nature - whether disguised in Eastern mysticism or American cynicism - is despair. In this thought-provoking and insightful book, Ravi Zacharias exposes the hopelessness of Atheism and explains how a worldview based on belief in God is the key to fulfillment. The Real Face of Atheism systematically examines atheistic positions on human nature, the meaning of life, morality, the "First Cause," death and more."